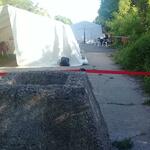 The South Ossetian party in the framework of the Incident Prevention and Response Mechanisms (IPRM) has reported on the violation of the airspace of the Republic by an unknown unmanned aerial vehicle that flew into South Ossetia from Georgia, told reporters Deputy Presidential Plenipotentiary Envoy for post-conflict settlement Yegor Kochiev after the IPRM meeting in in the village of Ergneti..
"The drone violated the airspace of the Republic three times in the region of the Seribalta settlement, where is stationed the border guard of South Ossetia," Kochiev said.
According to him, the violation of the airspace was recorded three times with an interval of an hour and then three hours later.
"In total, the unmanned aerial vehicle was flying on the territory of the Republic for up to ten minutes, but at the same time it dropped to a low altitude, flew over the border guard, looked into the back of the car of the border guards, and then flew off towards Georgia," Kochiev said.
He added that at the IPRM meeting the South Ossetian party did not receive a response on the ownership of the drone.