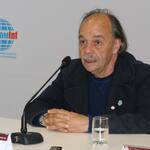 Joint tourist exchange projects are planning to implement the cities of Randazzo and Tskhinval within the framework of the Friendship and Cooperation Agreement, told reporters on Thursday representative of the Ministry of Foreign Affairs of South Ossetia in Italy, Mauro Murgia,.
"We are working to implement tourist exchange projects. This would be beneficial for both Tskhinval and Randazzo," said Murgia.
According to the representative of South Ossetia in Italy, it is also being considered the possibility of exchanging journalists. "We would very much like South Ossetian journalists to visit the cities of Italy, in particular those with which we have establish friendly relations. We also really want a group of Italian journalists to come to Tskhinval," he said.
Murgia noted that this would make it possible to popularize South Ossetia in Italy and help the Italians learn about it as much as possible.
The delegation of the province of Catania of the Italian Republic, headed by the Deputy head of the municipality of Randazzo Carmelo Tindaro Scalizi, arrived in Tskhinval, where on Wednesday the Cooperation Agreement was signed between the capital of South Ossetia, Tskhinval and the Italian city of Randazzo.
Randazzo is a commune in Italy, located in the region of Sicily, subordinate to the administrative center of Catania. It covers an area of ​​204 km². The population is 11,287 people.