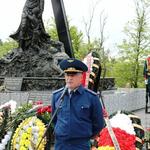 Prosecutor General of South Ossetia, Uruzmag Dzhagaev, announced the decision of the Prosecutor General's Office to retrain the crime committed on May 20, 1992 from "murder" to "genocide".
"Genocide is a crime that is not subject to statute of limitations. We will prosecute the people involved in this tragedy, until the last, until they suffer proper punishment," said Dzhagaev.
According to Dzhagaev, immediately after the terrible crime committed on the Zar road, the Republic's prosecutor's office opened a criminal case, the identities of the four criminals, participated in the crime, were established. In 1996, the number of identified persons increased to 24. Their full personal data were established, and this was enough to put them on the international wanted list, which was done by the investigative-operative group, all these years the preliminary investigation of this criminal case did not stop." said Dzhagaev.
The Prosecutor General has stressed that the investigation of the Zar tragedy is under the control of the Republic's leadership. On Monday, one of the worst tragedies in the history of the Republic was commemorated in South Ossetia - the execution of civilians leaving the front-line Tskhinval on May 20, 1992. 27 years passed since that time, but there are crimes that have no statute of limitations. That May day will forever remain a day of pain.