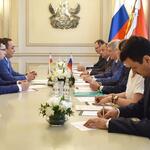 Ambassador of South Ossetia in Russia, Znaur Gassiev, thanked the Governor of the Voronezh Region Alexander Gusev on behalf of President Anatoly Bibilov for paying special attention to the people of the Republic, in particular, for the assistance rendered in 2008.
According to the press service of the Embassy in the Russian Federation, the visit to the Voronezh region of the Ambassador of South Ossetia Znaur Gassiev s continuing.
In a difficult time for the Republic, Voronezh did not remain indifferent. On August 29, 2008, a motor caravan with 60 tons of humanitarian aid for residents of South Ossetia who suffered during the aggression of Georgia went to Tskhinval. We will never forget this," the Ambassador said.
Gusev, in turn, has expressed confidence that close cooperation between the Voronezh Region and South Ossetia will continue to promote the strengthening of all-round cooperation between the two countries.
During the meeting, specific issues of cooperation were discussed, including those related to attracting investors to the Republic in the person of the Voronezh business and selling South Ossetian products in the region.
An agreement was reached on concluding an Agreement on cooperation in the near future.
During the Ambassador's visit, are planned working meetings with potential investors and the administration of the region.