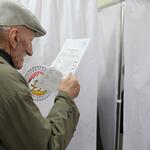 The Chairman of the CEC of Transnistria, Elena Gorodetskaya, has reported on an invitation from South Ossetia to take part in the South Ossetian parliamentary elections, which will be held on June 9.
"Continuing the theme of cooperation with South Ossetia and Abkhazia, the CEC of the TMR received an invitation to take part in parliamentary elections," the head of the CID of the TMR said at the meeting of the commission.
Speaking about the development of relations between Transnistrian youth election commissions and their foreign counterparts, the head of the Central Election Commission Elena Gorodetskaya has noted that a delegation from the Khanty-Mansiysk Autonomous Okrug visited the recent youth forum "Tiras-2019". "Soon, the same interactive event (teleconference) is planned to be held with South Ossetia and Abkhazia," she said.
On June 9, parliamentarians of the Russian Federation, Abkhazia, Luhansk, Donetsk People's Republics, and North Ossetia confirmed their participation as observers at the elections of deputies of the p=Parliament of South Ossetia. The authorities of South Ossetia sent invitations to parliamentary elections to all friendly countries.
In the parliamentary elections in South Ossetia on June 9, will take part seven political parties and 99 single-mandate deputies and self-nominees. One-mandate and self-nominated candidates claim for 17 single-seat seats, and political parties for the other 17 seats.
These are the parties: "United Ossetia", "Unity of the People", "Nykhas", "People's Party", "Fydybasta", "Unity" and "Communist Party". The registration of the republican list of candidates for deputies was denied to the Rodina party, while four candidates from the list of this party in single-mandate constituencies were registered.
In total, 77 polling station will be opened: 73 in South Ossetia, one n Moscow, two in the territory of the consulate in North Ossetia and one in Abkhazia, the city of Sukhum.
Deputies will be elected for the first time by a mixed majoritarian-proportional system: half of the 34 parliamentarians are by party lists, the other half are by single-mandate constituencies. Previously, elections were held only by party lists.
The President of the Republic, Anatoly Bibilov, during a meeting with CEC head Bella Plieva, requested that a festive atmosphere be created at all polling stations on election day.
"People should understand that elections are a holiday. After all, they elect members of parliament who should represent the interests of the people in the legislative branch," said Bibilov.