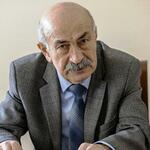 Murat Dzhiioev, Plenipotentiary Representative of the President of South Ossetia for Post-Conflict Settlement, has received representatives of the International Committee of the Red Cross - the ICRC coordinator for the missing persons - Lina Milner and the coordinator for forensic medical examination of the ICRC Maria Mikelidi.
In the course of the conversation have been discussed the issues of searching for and clarifying the fate of the missing residents of South Ossetia. The activities of the Tripartite Coordination Mechanism under the auspices of the ICRC, which is engaged in clarifying the fate of the missing, were commended. They discussed issues that will be submitted to the next meeting of the Tripartite Coordination Mechanism, scheduled for June of this year. Other issues of interest in terms of the missing persons were also raised. 
The meeting was also attended by Presidential Commissioner for Human Rights Inal Tasoev, head of the ICRC Office in South Ossetia Ashot Astabatsyan, head of the defense department of the ICRC Office Viktoria Romanova.