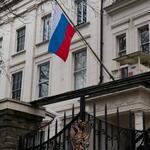 It is absolutely unacceptable that in the Georgian draft resolution, contrary to international legal realities, the thesis of the affiliation of Abkhazia and South Ossetia to Georgia is being held.
The Russian Embassy in the UK hopes that the British government will recognize the counterproductive nature of the draft resolution submitted by Georgia for consideration to the UN General Assembly on the situation of internally displaced persons and refugees from Abkhazia and South Ossetia. This is stated in the comments issued by the press service of the Embassy on Wednesday evening.
"We consider this step of the Georgian authorities as counterproductive. <...> Today, the Embassy brought this position to the British Foreign Office. Until now, London supported the Georgian initiative in the General Assembly, apparently regarding it as an instrument of pressure on both independent Abkhazia and South Ossetia, and on our country. Let's hope that the UK realizes that such "pressure" does not bring results, but only complicates the settlement of the problem of displaced persons and refugees in Transcaucasia, "the document says.
Russian diplomats have noted that in promoting its initiative, Tbilisi uses humanitarian issues and "speculates on the fate of Georgians, Abkhazians, Ossetians and other nationalities affected by Georgia's aggressive and nationalist policies, including in 2008."
"It is absolutely unacceptable that the Georgian draft resolution, contrary to international legal realities, is holding the thesis of the belonging of Abkhazia and South Ossetia to Georgia. Unfortunately, this initiative also undermines the effectiveness of the Geneva international discussions on security and stability in Transcaucasia, the only negotiation format to date, which provides an opportunity for direct dialogue between the representatives of Georgia, Abkhazia and South Ossetia, "the embassy stressed." Against the background of Tbilisi's constant attempts to bring the issues of refugees and internally displaced persons to the UN "platform", where Abkhazia and South Ossetia are not represented and cannot present their arguments, Sukhum and Tskhinval reasonably refuse to discuss them in Geneva. "