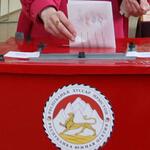 For the first time, international observers from Nicaragua, Germany, Finland, Japan, Italy and Belgium will come to the parliamentary elections in South Ossetia for the first time on June 9, Res agency was told on Thursday by the Central Election Commission of the Republic.
"About 50 international observers have been accredited to South Ossetia for the upcoming elections. For the first time, observers from Nicaragua, Germany, Finland, Belgium, as well as two observers from Japan, three from Italy, will come to us," the CEC said.
 
President of South Ossetia has scheduled parliamentary elections for June 9. Deputies will be elected for the first time by a mixed majoritarian-proportional system: half of the 34 parliamentarians are by party lists, the other half are by single-mandate constituencies. Previously, elections were held only by party lists.