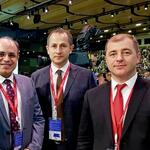 A meeting of the South Ossetian and Syrian delegations took place at the St. Petersburg International Economic Forum - 2019. According to the press service of the government of the RSO, during the meeting a discussion took place on issues of multilateral cooperation between Syria and South Ossetia.
"Today's meeting is a continuation of the implementation of the agreement signed in April 2019 on the margins of the Yalta International Economic Forum between the Ministries of Economic Development of Syria and South Ossetia. The meeting discussed the creation of an intergovernmental commission on trade, economic and cultural cooperation, as well as consular offices and trading houses in Tskhinval and Damascus, "said Deputy Prime Minister - Economic Development Minister Gennady Bekoev.
The Ambassador of the Syrian Arab Republic in Russia, Riyad Haddad, stressed the importance of bilateral cooperation and conveyed on behalf of the Syrian people thanks to President Anatoly Bibilov for the friendly support of the Syrian Arab Republic.
Syrian Minister of Economy and Trade Mohammed Samir Khalil invited President Anatoly Bibilov to the exhibition to be held on August 28 in Damascus.