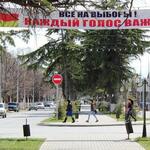 On Saturday in Tskhinval, only large campaign banners remind you of elections, which, according to local legislation, you cannot remove, and CEC stretch marks calling on people to show civic activism and vote in elections. Candidates decided to spend a "day of silence" in different ways: in party headquarters, at home.
In social networks on pages in support of a particular candidate, too, the excitement is asleep, no publications that are subject to the prohibition of legislation were noticed.
The CEC Secretary Kristina Avlokhova rhas eported that no data on silence violation have been reported to the CEC. The head of the Ministry of Internal Affairs of the Republic, Igor Naniev, stated that "there is currently no evidence of violations."
Observers continue to arrive in Tskhinval. Representatives of the delegation from Artsakh, Russia, Abkhazia and other countries received one of the first corresponding certificates to the Central Election Commission of the Republic. Observers have already visited some polling stations, talked with the heads of polling station commissions.
They paid attention to compliance with the current legislation of South Ossetia. On election day, observers plan to visit polling stations not only in Tskhinval, but also in the districts of the Republic. They will share their impressions during the briefings, which will be held at the CEC information press center.
Final preparations are being made at the polling stations: Ballot boxes, booths, information boards have already been installed, voters are being waited here in the morning. By tradition, people will come to some polling stations with three pies, in South Ossetia elections are always a holiday.
The Central Election Commission of South Ossetia allowed for the elections seven parties in a single electoral district - these are United Ossetia, Unity of the People, Nykhas, People's Party, Communist Party, Unity and Fydybaestae. The CEC refused to register the republican list of the Rodina party. Also, 99 candidates were registered in 17 single-member constituencies, of which 60 were nominees from parties and 39 were self-nominated, one of whom recused himself this week.
About 50 international observers from Russia, Abkhazia, Nagorno-Karabakh, Transdniestria, the LPR, the DPR, as well as Nicaragua, Germany, Finland, Belgium, Japan and Italy will monitor the elections in South Ossetia. "All observers are provided with necessary information about the electoral legislation of the Republic, about campaign participants. Everyone will have the opportunity to visit any polling station," the CEC chairman said.
According to the Chairman of the CEC of South Ossetia Elections will be considered valid, if more than 50% of voters on voting lists participate in the vote. The Parties need to overcome the 7% barrier, with regard to single-mandate and self-promoted candidates - they need to gain a majority of votes.