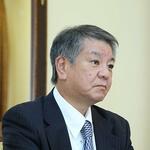 International observers of the voting process at the seventh convocation of the South Ossetia's Parliament on June 9 have stated the democratic nature and transparency of the electoral process, talking about their positive impressions of our state. Chairman of the Issuikai Patriotic Organization of Japan, Mitsukhiro Kimura, told the news agency Res about the prospects for cooperation between Japan and South Ossetia.
According to him, in 2009, the Japanese politician had a chance during his visit to South Ossetia to visit the South Ossetian University and talk with students. "And then the question of further cooperation was also raised. One of the students said that she was studying the works of the famous Japanese poet Matsuo Basho, (like Pushkin for Russia). I was very surprised by this. I think cooperation or even while communication should be started at the level of students on the Internet, at least, or studying the Japanese language remotely," says Mitsukhiro Kimura.
He believes that we need to be more interested in each other: culture, traditions, attitudes. "Frankly speaking, very few Japanese in general are aware of the existence of a country like South Ossetia - Alania. And when I return to Japan, I, naturally, will write and speak a lot on television, radio, etc., talking about your country, about the people. South Ossetia is a peaceful country; it wants to develop in a calm atmosphere. And I will definitely tell the Japanese youth that in a faraway country, South Ossetia, where there was a war only recently, there are people who know and study your culture, they know who Matsuo Basho is. We must take an example from them, from Alans," said the Japanese observer.