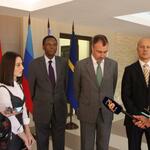 The co-chairs of the International discussions on security in Transcaucasia expect positive developments on the document on the non-use of force by Georgia against South Ossetia at the next round. This was reported to journalists in Tskhinval by the EU Co-Chair Toivo Klaar following a meeting with the South Ossetian colleagues.
The EU, the OSCE and the UN co-chairs of the Geneva International Discussions on Security in Transcaucasia arrived in Tskhinval on Tuesday to discuss with the South Ossetian colleagues the agenda for the upcoming round of discussions to be held in Geneva in early July.
"Participants in the Geneva International Discussions consider the issue of security and non-use of force a key issue in the negotiations, and therefore we expect fruitful work in Geneva. I cannot predict how far we will progress on this issue, but positive developments are expected," said Klaar.
The Presidential Plenipotentiary Envoy for post-conflict settlement, Murat Dzhioev, who is also the head of the South Ossetian delegation at the Geneva discussions, has stressed that the issue of ensuring security of South Ossetia from Georgia is very difficult. "Since the Georgian party and its Western patrons are doing everything to slow down the discussion of this issue and the preparation of a document on the non-use of force, which would have strong international guarantees and be respected by all parties. Nevertheless, we intend to continue working in this direction, since the Geneva Discussions are an important international platform where the South Ossetian party has been raising issues that concern our people. First of all, this is a security issue," Dzhioyev said.
The Geneva discussions on security and stability in Transcaucasia are held held since 2008 with the participation of Russia, Abkhazia, South Ossetia, Georgia and the United States, with the mediation of the UN, the EU and the OSCE special representatives. The talks are traditionally conducted in two working groups - on security and on humanitarian issues. The next round of discussions will be held in Geneva in July