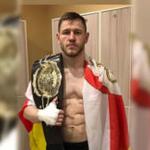 Ruslan Tedeev became the owner of the belt of world champion according to the "Old Guard "organization, reports the "15th Region".
In the fight for the title, Tedeev defeated Georgian rival Shalva Mamakashvili.
The battle took place as part of the Coliseum - Battle of Champions 6 tournament held in Moscow. In 2018, Ruslan Tedeev won the Fight Nights Global 91 tournament in Moscow, where he defeated his rival Arsen Batyrov by chokelock in the first round.