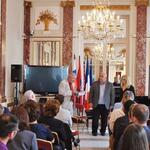 The Days of Ossetian Culture in Europe have started, which will be held from 19 to 30 June
The head of the South Ossetian Foreign Ministry Dmitry Medoev is taking part in the anniversary events of the Days of Ossetian Culture in Europe, which for several years annually are held by the international non-profit association Renaissance-Saendidzaen (Belgium) headed by Radion Pukhayev, the official website of the Foreign Ministry reports.
The days of Ossetian culture in Europe are dedicated to the 10th anniversary of the formation of the Renaissance-Saendidzaen association and will be held from 19 - 30 June.
A round table "Bridges of Cooperation" will take place on Wednesday in Brussels with the participation of representatives of the scientific and creative intelligentsia of Ossetia and Europe, the premiere of the short feature film "Bacha" and a meeting with the authors of the film by Alan Doguzov and Alan Kasoev "Arv-Art".
On June 21, the events will continue in Luxembourg, where the film "Bacha" and the opening of the exhibition of Ossetian artists will also take place.
Painting and graphics will be presented by artists: Karina Kachmazova, Nina Savlaeva, Alan Kasoev, Timur Andiev, Tamerlan Tskhovrebov, Alan Bitiev, Vadim Puhaev and Victor Tsallagov.
The events in one of the ancient castles of the Duchy of Beaufort will be completed with a grandiose festival of cultures where Ossetian artists will hold a master class to the national music.
A joint open-air of Ossetian and European artists in Belgium and France, a performance by folklore groups is also planned to be held.