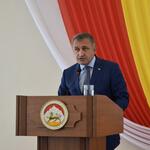 The head of South Ossetia, Anatoly Bibilov, stressed his readiness for close cooperation with the Parliament of the VII convocation.
"I am sure that the seventh convocation of the Parliament is capable and represented by patriots of their country who know about the problems of South Ossetia and their district. I am sure that your activities will be aimed at improving the welfare of the people. I wish that by the results of your work after 5 years, each of you will be re-elected to the VIII convocation Parliament of the Republic of South Ossetia ", – he said.
The first session of the Parliament of the new convocation took place on Thursday, in which the President also took part. Alan Tadtayev, Chairman of the "United Ossetia ", was elected Speaker of the Republic's Parliament; former speaker Peter Gassiyev became his first Deputy; "People's Party "Chairman Alexander Pliev and "Unity of the People's "Party Vladimir Kelekhsaev took the chair of the other two Deputies.
Elections of deputies of the Parliament of South Ossetia were held on June 9. In total, five parties entered the Parliament for 34 deputy mandates. The majority of deputy mandates of United Ossetia is 14, half of the mandates on the party list, another seven from self-nominees from the party. In second place - the People's Party with five mandates. Four - the party "Nykhas", three - the party "Unity of the People", two - the Communist Party. Another 17 mandates are single-mandate and self-promoted.