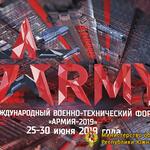 On the invitation of Defense Minister Sergei Shoigu, the head of the South Ossetian Defense Ministry Ibrahim Gasseyev, at the head of the departmental delegation, is taking part in the international military-technical forum ARMY-2019. The fifth anniversary Forum is taking place in Moscow and the Moscow region.
Within the framework of the Forum program, the delegation took part in the plenary session "Army" - uniting the world, saving the future. " The official opening ceremony of the Forum is currently taking place.
Today, the aviation cluster for specialists and a demonstration program for official delegations are scheduled. The events are being held at the Patriot Convention and Exhibition Center, the Kubinka airfield, the Alabino firing ground. Exhibition events within the framework of the Army-2019 military-technical Forum will also be held in other regions of Russia.
Defense Minister Ibrahim Gasseev takes part in this large-scale project for the third time.
The Army Forum is a complex event that, in addition to the main exposition, includes special projects - the International Exhibition of High-Performance Equipment and Technologies for the re-equipment of the defense industrial complex "Intelligent Industrial Technologies 2019" and the specialized exposition "Innovation Club".
The participants of the Forum are more than 1500 defense enterprises, which will present over 27 thousand samples of their production. This year the exhibition area is doubled - up to 230 thousand square meters. 10 countries will present their national expositions. These are Azerbaijan, Armenia, Belarus, India, Kazakhstan, China, Pakistan, Thailand, Turkey and South Africa.
A large-scale research and business program will be held within the Forum, bringing together over 140 events of various formats in the main thematic areas of the Forum.
The Forum's demonstration program will traditionally become an incredibly spectacular event and will demonstrate the power of Russian weapons, military and special equipment.