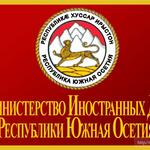 Fourteen submariners of the Navy died in a fire at a deep-sea research facility.
Foreign Minister of South Ossetia Dmitry Medoev sent a note of condolences to the Minister of Foreign Affairs of the Russian Federation Sergey Lavrov in connection with the tragedy in the Barents Sea.
"We are deeply shocked by the news of the tragedy that occurred aboard the deep-sea research apparatus of the Russian Navy in the Barents Sea, which killed 14 submariners," the condolences say. "The seven members of the highly professional team are killed, two - Heroes of Russia, with deep sorrow echoed in our hearts. At the cost of their lives, these courageous people eliminated the source of fire and rescued other crew members. "
The Foreign Ministry expressed sincere condolences to the families and friends of the victims: "in this difficult hour we share with them the pain of irreplaceable losses."
Last Tuesday, Ministry of Defense of the Russian Federation reported that fourteen submariners of the Navy died in a fire at a research deep-water apparatus.
The incident occurred on July 1 in the Russian territorial waters of the Barents Sea at a research deep-water apparatus designed to study the bottom space and the bottom of the World Ocean in the interests of the Russian Navy.
Ministry of Defense of the Russian Federation said that due to the selfless actions of the team, the center of ignition on the deep-water apparatus was eliminated. The deep-water apparatus is located in Severomorsk, the main base of the Northern Fleet of Russia.
Defense Minister Sergei Shoigu has reported to the President of Russia that the tragedy occurred in the Barents Sea during the planned work on the study of the seabed in Russian territorial waters. "This is an unusual vessel, we all know, this is a research vessel, the crew is highly professional. According to your preliminary reports, seven out of 14 dead are captains of the first rank, two are Heroes of Russia. This is a big loss for the fleet, and indeed for the army ", - said Vladimir Putin at a meeting with Shoigu.