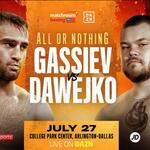 The first heavyweight ex-champion Murat Gassiev, is preparing to debut in the heavyweight on July 27 at the College Park Center in Arlington. His rival will be Joey Daveiko. The coach of Gassiev - Abel Sanchez, considers the best party for this, writes Ossetia News.
However, for the athlete, this fight is rather warm-up, before a really desired fight. Gassiev's team is waiting for revenge with Alexander Usik.
"This is a fight for which we, as a team, want revenge. We know that we were not 100% ready then, and this complicated the situation, but we would very much like a revenge in the future. Especially, if it is a championship fight. The difference in size will bring Usik problems. The lack of a powerful punch will hurt him. We look forward to a rematch, and we hope that this will be an easy fight," says the coach of the Ossetian boxer Abel Sanchez.
The position of the coach is shared by Murat Gassiev himself.
"The revenge with Usik is in my priority, it was unpleasant to lose. I think if there is a profitable and interesting proposal, the revenge will take place, "said the boxer.