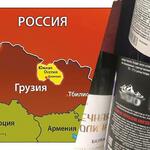 The Embassy of South Ossetia in Moscow is outraged by the image of the Georgian SSR with the inclusion of the territories of South Ossetia and Abkhazia on Georgian products coming to Russia, the diplomatic site reported on Thursday.
As part of the analysis of the Russian market by the South Ossetian Embassy to determine the potential of Russian imports of products manufactured by South Ossetia's enterprises, there were numerous facts that alcohol and other products made in Georgia and containing an image of a map of the Georgian USSR are on sale, said Ambassador of South Ossetia in Russia Znaur Gassiev.
That is, the Ambassador explained, with the unreasonable inclusion of the territories of South Ossetia and Abkhazia.
"Against the background of recent events in Georgia, reminiscent of the reign of the infamous nationalist Zviad Gamsakhurdia, where today Russophobia and insults against other nations have become a leitmotif for political forces, such audacity cannot but cause indignation," says the Ambassador, who is citing by the press office.
At the same time, in Georgia itself, he noted, pursuing an anti-Russian policy, the depiction of the actual map of this state is a criminal offense in accordance with the so-called. law on the occupied territories.
"The Embassy informed the Ministry of Foreign Affairs of Russia about what had been stated," Znaur Gassiev has emphasized.