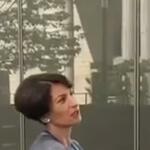 The inappropriate behavior of the journalist of the Georgian TV channel Rustavi-2 during an interview with Russian politician Peter Tolstoy can be a good example for journalism students as categorically unacceptable behavior for a journalist, said Maria Kotaeva, head of the State Committee on Information and Press.
"The low level of professionalism of the Georgian media journalists in South Ossetia has long been proven. Hysterical attacks and rude interrupting of the respondents are a sort of trick of Georgian journalists," said Maria Kotaeva to the IA Res.
She has reminded that back in 2004, when there was a format of a Mixed control Commission, Georgian journalists also tried to provoke South Ossetian politicians, after which Georgian journalists were simply ceased to be invited to the Republic.
"Georgian journalists organized a similar bazaar during meetings in the format of the Incident Prevention and Response Mechanism (IPRM). When I worked as a correspondent, I remember that repeatedly Georgian journalists, while approaching the press, began to offer South Ossetian politicians to comment in Georgian, which was at least incorrect and utter nonsense. They constantly interrupted the interlocutor, completely ignoring all the elementary norms of ethics journalism," said Kotaeva.