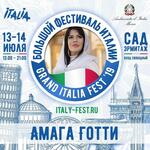 On July 13-14, the Grand Festival of Italy / Grand Italia Fest will be held in Moscow, organized on the initiative of the Italian National Tourism Agency (ENIT) under the auspices of the Italian Embassy in Moscow and with the support of the Government of Moscow.
The festival is held for the third time. The official opening of the Grand Italia Fest will take place on July 13 at 14:00, on the main stage of the Hermitage garden.
"Few days left! Soon, thousands of Muscovites and guests of the capital will enjoy the most authentic Italian culture in Moscow! I'm a little worried. I love you, Italy," our compatriot, participant of the festival Amaga Gotti wrote on her Facebook page.
Amaga Gotti will perform on the main stage on the first and second days of the festival.