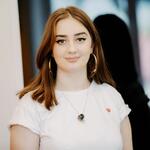 Lyubov Dzhioeva, a student of the South Ossetian State University, made it to the finals of the talent competition of the All-Russian Youth Educational Forum "Tavrida", which is taking place in the Republic of Crimea. This was reported to the Res news agency by the Forum member herself.
According to her, more than 30 participants took part in the competition; by the results of the voting, eleven people reached the final.
"At the Tavrida Frum I am participating in a talent contest, having performed the song "Masyg "I was able to reach the final. The jury was delighted with the Ossetian language, she noted.
The student has stressed that various trainings, educational lectures, contests, meetings with interesting people are held for the Forum participants.
"We have lectures and trainings on the film industry, acting, expressive reading, how to do TV shows. Very good forum, I like everything, a lot of emotions, a lot of knowledge and new friends,"said Dzhioeva.
Students of the South Ossetian State University Anna Medoeva, Lyubov Dzhioeva and Suzanna Zasseyeva are taking part in the eleventh shift of the Tavrida forum, which is called Video Content, and is intended for producers, directors, video trainers, animators, interviewers, authors and actors of online TV shows and short films, as well as motion-designers.
The Forum was organized by the Federal Agency for Youth Affairs (Rosmolodezh) and the Russian Center for Civil and Patriotic Education of Children and Youth (Rospatriotsentr - a subordinate institution of Rosmolodezh). The partner is the Moscow State Institute of Culture.
With the initiative to hold "Tavrida" (Tavrida - one of the historical names of the Crimea) in April 2014, the All-Russian Popular Front (ONF) came out.
Russian President Vladimir Putin supported the proposal.
In 2015, Tavrida received the status of the All-Russian Youth Educational Forum. In accordance with the instructions of the President of the Russian Federation of April 20, 2015, the forum is held annually on the Bakal Spit of the Crimean Peninsula.
The Forum is the main platform in Russia for creative youth. Its main tasks are the creation of professional communities from among young cultural figures, the provision of conditions for self-realization, the promotion of career aspirations of young people, the formation of their traditional family values, etc.