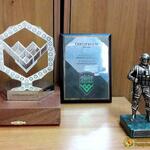 The team of the Defense Ministry of South Ossetia for the first time took part in the Army International Games 2019 (Armi-2019). The team members - cadets of the Ryazan Higher Airborne Command School named after Army General V.F. Margelov, Alan Bazayev and Arsen Tigiev took the 4th place in the "Airborne Platoon" competition. Representatives of the national army performed in the category "Teams not in full force," the press service of the Ministry of Defense reports.
In the same category, Alan Bazaev was recognized as the best shooter. Alan Bazaev and Arsen Tigiev, by order of the Minister of Defense of the Russian Federation, Army General Sergei Shoigu, were awarded medals "For Strengthening the Military Commonwealth." the team also won the "Strong in Spirit" nomination.
In total, 21 teams, more than 400 military personnel took part in this competition. In the category "Teams in full force", Russia became the winner.
Competitions in the framework of the "Airborne Platoon" contest took place in the Pskov region in four stages. The soldiers carried out landing, a 10-km march, overcoming obstacles, biathlon with shooting from small arms and grenade launchers, a pursuit race in military vehicles and orienteering on the ground, etc. At the final stage, the military competed in overcoming an obstacle course, shooting from various small arms, and also made individual jumps on accuracy. All competitions in which South Ossetian cadets participated were held in Pskov.
The Fifth Army International Games opened on August 3 in Patriot Park near Moscow and will end on August 17. Competitions are held at 21 training grounds in 10 countries: Russia, China, Kazakhstan, Belarus, Iran, Azerbaijan and Armenia, India, Mongolia and Uzbekistan. In total, 32 competitions in field, air and naval army training will be held as part of the competition - fifteen of them in the Russian Federation.
In Armi 2019, 223 teams from 39 countries are taking part. Nine of these countries - South Ossetia, Abkhazia, Jordan, Cambodia, Congo, Cuba, Mali, Mozambique, Sri Lanka and South Ossetia - are participating in the games for the first time. Five countries - France, USA, Slovakia, Turkey and Mexico - sent observers.