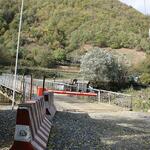 Eight Georgian citizens were detained by border guards in South Ossetia for illegally crossing the state border in the vicinity of the village of Adzesar in Tskhinval District of the Republic, Murat Dzhioyev, Presidential Plenipotentiary Envoy of South Ossetia, told IA "Res».
"On the evening of August 17, eight people were detained in the vicinity of the church of the village of Adzesar in Tskhinvali District of the Republic, who were in alcohol and drugs. A narcotic substance of plant origin was found in the personal belongings of the detainees," the Envoy said.
The violators were on three cars, which, by agreement, will be transferred to their relatives within an hour through the "hot line".
The relevant services of the Republic are conducting proceedings in the framework of the current legislation of South Ossetia in order to establish their identities.
"The health status of the detainees is satisfactory," Dzhioev said.
After the relevant preventive actions, a decision will be made on further measures in relation to them.