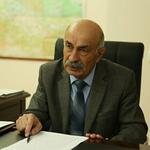 The protests of the Georgian representatives regarding the work on designating the state border carried out by the South Ossetian border department are part of the information war against the Republic and Russian-South Ossetian relations, said Murat Dzhioev, Presidential Plenipotentiary Envoy of South Ossetia, told IA "Res ".
"This is a well-directed performance, which is played either in one section of the state border or in another. Their goal is to draw attention to Georgia from the international community," said Dzhioev.
According to him, the protests that are being heard these days from different heights of the Georgian authorities and non-governmental organizations in connection with the works on designating the state border near the village of Gugutiantkar "have nothing to do with concern for stability in the border territories."
"The fact is that representatives of the Georgian side and the mission of the EU observers in Georgia have repeatedly been able to make sure that the works do not affect the territory of Georgia anywhere," the diplomat emphasized. - Secondly, it was no secret to anyone that South Ossetia will be unilaterally designatingthe state border line, since the Georgian party is not cooperating. Representatives of South Ossetia both at the Geneva discussions and at the IPRM meetings constantly stated this. However, Georgian organizations competing among themselves in public relations need colorful shows, such as a rally organized last year near the village of Atots with a mass demonstration of certain parts of their bodies that are usually covered with clothes. In the Gugutiantkar district, things haven't come to this yet, but, I repeat, mass visits there, the appeal to the international community is a pure propaganda campaign."
According to the Plenipotentiary, if Georgia were really interested in stability in the border areas, they would have to admit the obvious: where there is a border designation, there are much fewer border violations, and, accordingly, less cause for concern.
"Last Saturday, eight young Georgian residents, being in alcohol, on cars violated the border in the area of ​​the village of Adzysar ," Dzhioev noted. - If there were corresponding border engineering structures in that place, then most likely there would have been no violation of the state border. And although in Tbilisi they immediately announced again to the whole world about "kidnapping", these people voluntarily violated the border. "
The diplomat has added that now investigative work is being carried out with the violators of the state border in accordance with the legislation of the Republic of South Ossetia.