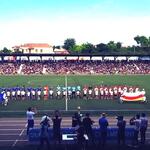 South Ossetian football team left for Lugansk, where it will hold a friendly match with the national team of the Lugansk People's Republic. The game will take place on Saturday, August 24, at 15:00 on the eve of Miner's Day, the press service of the Committee on Youth Policy, Sports and Tourism of the Republic reports.
According to the head coach of the South Ossetian team, Soslan Kochiev, there have been changes in the team.
"Compared to the European Championship under the auspices of ConIFA, the composition of our team has changed. We invited 7 young players. Since four football players from the previous squad are now playing for the Armenian team, and three have moved to the football club "Alania" Vladikavkaz. But despite this, we hope to show football of a good level," said Soslan Kochiev.
The sports delegation is led by the Chairman of the Committee on Youth Policy, Sports and Tourism Sergey Zasseev.
The presidents of the two republics Anatoly Bibilov and Leonid Pasechnik agreed to hold a friendly match between the teams of the Republic of South Ossetia and the Luhansk People's Republic.
Авторство: