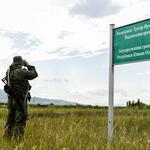 The State Security Committee of South Ossetia reports on the ongoing provocations on the state border between the Republic of South Ossetia and Georgia.
"In particular, in the border strip, in the vicinity of the village of Uista (formerly Tsnelis) in Znaur district of the Republic, the Georgian side is building a checkpoint guarded by Georgian security forces," reads the statement of the KGB, provided o IA"RES".
In order to ensure the safety of South Ossetian citizens living in the border settlements, the Committee is taking comprehensive measures to neutralize the emerging threats.