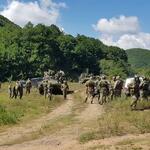 A technical meeting of the South Ossetian delegation with the Georgian party with the participation of representatives of the OSCE and the EU Observer Mission in Georgia (EUMM) ended in the Tsnelis village of South Ossetia, where the Georgian illegal roadblock was put up, the state television journalist Alan Tibilov told IA "Res. "
"A technical meeting in the IPRM format took place near the Georgian checkpoint. The meeting lasted more than three hours, without journalists. According to preliminary information, it has not yet been possible to achieve full understanding between the parties on the location of the Georgian checkpoint. Journalists are waiting for information, "Tibilov said.
Residents of the village of Tsnelis gathered in the center of the village and are also waiting for the results of the meeting between the authorities of South Ossetia and the Georgian party. In the morning, according to local residents, representatives of the OSCE and EUMM missions came to them.
On Thursday, representatives of South Ossetia interrupted a meeting within the framework of the IPRM.
The head of the delegation of South Ossetia, Yegor Kochiev, said on the eve that South Ossetia at a meeting in the framework of the Prevention and Response Mechanisms for Incidents (IPRM) demanded from to Georgia remove the police post at the border near the village of Uista (Tsnelis) by 6 a.m. on Friday, otherwise the South Ossetian side will take "legal action to protect the citizens."