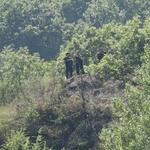 The Foreign Ministry of South Ossetia on Sunday issued a statement in connection with the provocative actions of Georgia.
"Today, on September 1, 2019, at 10:00 Moscow time, the full-time aircraft (quadrocopter) of the General Prosecutor's Office of the Republic of South Ossetia, conducting the investigative actions prescribed by law in the framework of a criminal case on the fact of illegal crossing of the state border by Georgian armed forces, circled the area near the village of Tsnelis of the Znaur district of South Ossetia, during which it was subjected to machine-gun fire from the territory where the Georgian armed forces are located, the result of which was shot down, the statement said. "Earlier in its statements, the Ministry had already expressed the most serious concern about the provocative steps taken by the Georgian law enforcement agencies against the Republic of South Ossetia, accompanied by an increase in the presence of Georgian law enforcement agencies in the zone of the Ossetian village of Tsnelis. There is a direct threat to the lives of hundreds of people whose homes are located 150 meters from the construction of military engineering structures by Georgia, and the fact of opening fire deep into the territory of South Ossetia, towards the settlements located there, causes extreme concern and alarm."
In connection with the incident, the Ministry again appeals to the EU Observer Mission in Georgia, as well as to the Co-Chairs of the Geneva discussions on security in Transcaucasia, urging them to take decisive measures to influence the Georgian side in order to neutralize the real risk of armed confrontation and stop further tension.
"We call on the Russian Federation, the governments of the countries of the South Caucasus, the countries of the European Union, as well as the international community to condemn the aggressive policy of the Georgian leadership, which jeopardizes the security of the entire Caucasus region.
The position of South Ossetia remains unchanged: the only way to avoid a clash is to immediately withdraw all Georgian armed formations from tension zones and the cessation of illegal construction work, "- said the Foreign Ministry.