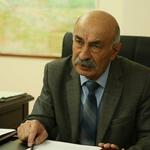 The South Ossetian delegation at the meetings in the framework of the Geneva Discussions and Incident Prevention and Response Mechanisms (IPRM) after the events of 2008, each time proposes to sit at the negotiating table on delimitation and demarcation of the state border, said Presidential Envoy Murat Dzhioev at a briefing in Tskhinval.
"In accordance with the international norms, we propose to start discussing the issues of delimitation and demarcation. Unfortunately, the Georgian party does not listen to our proposals, and the current situation in the village of Uista is a force-based method of penetrating into the territory of South Ossetia," he said.
Murat Dzhioev has noted that provocations on the borders of South Ossetia are a constant phenomenon and cited specific facts.
"Now there is no need to discount the domestic political situation in Georgia itself. Those players who appear on our border, first of all, play on the stage of Georgia itself," the Envoy said.
The borders of the Republic of South Ossetia, according to Dzhioev, are legislatively fixed since 1992, and after 2008 the Law "On the State Border of South Ossetia" was adopted, which clearly states that the state borders of the Republic of South Ossetia are defined within the administrative borders of the former South Ossetian Autonomous Region area.
"The Soviet Law "On the South Ossetian Autonomous Region" clearly states that "any changes to the borders of the autonomous region are made only with the consent of the region itself." There is not a single document that says that the South Ossetian borders changed with the consent of South Ossetia. Therefore, we clearly stand on the position of inviolability of the territory of South Ossetia and recognize it within the borders in which South Ossetia has existed since the formation of our autonomous region in 1922," the politician emphasized.
A look into history
Murat Dzhioev reminded that after the adoption of the Decree in the CEC of Georgia on the formation of the South Ossetian Autonomous Region, the territory of South Ossetia was delineated, and, according to these data, those territories that are discussed today are located within the South Ossetian Autonomous Region.
"Moreover, the Yugosettalk enterprise was launched in the mid-30s, and all documentation was prepared by the authorities of South Ossetia. And right-bank plots by the decision of the South Ossetian authorities since 1935 were allocated for the construction of houses for workers of the enterprise. All of this is clearly documented. Therefore, our position, based on those maps, is clear," said Dzhioev.