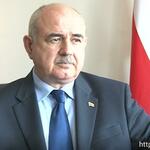 The biggest result of the Geneva discussions is the fact of their conducti g, since it is already a factor in peace and stability, said South Ossetian Foreign Minister Dmitry Medoev in an interview with the Turkish "Cumhuriyet".
According to him, the Geneva discussions, which will be 11 years old in October 2019, are designed to help ensure peace and security in the Caucasus.
"This is a very important international platform for us, unfortunately, the only one for direct dialogue between representatives of South Ossetia, Abkhazia, Georgia, Russia, the United States under the EU, UN and OSCE co-chairmanship. Within this format, the interested international community can directly get acquainted with the position of all parties to the conflict," he said. "Despite the fact that no significant breakthroughs have been noted in the Geneva format, we do not lose hope that sooner or later Georgia will recognize the existing realities and move from slogans to a constructive dialogue, which is necessary to establish normal interstate relations."
Medoev noted that one of the important outcomes of the discussions was the achievement in February 2009 of an agreement on the establishment of joint mechanisms for the prevention and response to incidents on the borders of South Ossetia and Abkhazia with Georgia, implying the resolution of emerging disputes and incidents at monthly meetings.
"It should also be noted that all these years, South Ossetia and Abkhazia have been offering Georgia to sign a binding document on the non-use of force, non-resumption of hostilities, but Georgia has been opposing this all these years," the Foreign Minister concluded.
The Minister also commented on the position of the Western countries, applying double standards on territorial contradictions.
"The double standards applied by some Western countries around the world are known to us, including from our own experience. Where necessary - democracy and human rights are recognized, and where it is disadvantageous for these countries - dictatorship and even crimes against humanity - are considered the norm. The former Yugoslavia, Libya, Iraq, and Afghanistan are far from a complete list of the countries where double standards have been applied. We are against such approaches, however, unfortunately, this is reality, we have learned to distinguish between these standards," Medoev emphasized.
He has noted that recognition of Kosovo's independence without the will of its people and the non-recognition of South Ossetia with the clear will of its people, expressed in five referenda, is a case in point.
"We do not pay attention to the "crooked standards", we go our own way - through independent development, strengthening democratic institutions, creating conditions for a safe and comfortable life for our citizens. South Ossetia will never again be part of Georgia!", the Foreign Minister concluded.