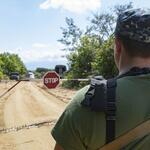 South Ossetia handed over to the co-chairs a legal document confirming the borders of the Republic
The South Ossetian party at the meeting with the OSCE, the EU and the UN co-chairs of the Geneva discussions, raised the issue of non-compliance of international observers with their powers under the mandate. It's about the fact that some of them allow themselves to violate the state border of South Ossetia with Georgia, Murat Dzhioev, Presidential Plenipotentiary Envoy South Ossetia for post-conflict settlement, told reporters at the briefing.
"In the previous round in Geneva, I also made a statement that observers of the EU Mission illegally visit the right-bank part of the village of Tsnelis. This is despite the fact that they do not have a mandate to work in South Ossetia and any penetration into our Republic is illegal. They have a mandate to work in the areas adjacent to Abkhazia and South Ossetia, but not in these countries, "said Dzhioev.
According to him, the meeting with the co-chairs, held on Tuesday, lasted a little longer than usual, most of the discussion was devoted to the situation in Tselis.
"We gave the co-chairs a copy of the Decree on the formation of The South Ossetian Autonomous region as part of the GSSR. This is the first and only legal document that describes the boundaries of the then Autonomous region, which became the state borders of the Republic of South Ossetia since 1992. We gave them several maps so that they could clearly see that our description of the boundaries of the RUO coincides with the contours contained in the Decree," Dzhioev said.
The South Ossetian party noted that it was ready for a dialogue with the Georgian party on the de-escalation of the situation in the area of ​​the Tsnelis settlement.
"We also called on the co-chairs to influence the Georgian side not to aggravate the situation and discuss all the border issues in a dialogue mode," the Envoysaid.
The co-chairs, in turn, have noted that they are concerned about the situation on the border of South Ossetia with Georgia.
"At the same time, we are very pleased that each party has a desire for a dialogue, and we meet, discuss, and go along the path of resolving these issues through negotiations," Toivo Klaar, the EU Co-Chair, said at the briefing.
The UN co-chair Cihan Sultanoglu has added that she sees the parties' commitment to resolving the escalation of tension.
"For our part, we will contribute to establishing the dialogue," she stressed.
The co-chairs of the Geneva discussions visited Tskhinval on the eve of the next round of negotiations, which are scheduled for early October.