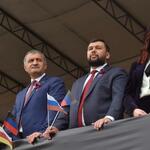 As part of the official visit on September 19, negotiations will be held between President of the Republic Anatoly Bibilov and the head of the DPR Denis Pushilin, as well as a meeting of delegations in an expanded format, the presidential press service said.
Denis Pushilin will also take part in the events dedicated to the celebration of Republic Day of South Ossetia on September 20.
The visit of the head of the DPR will last three days.
South Ossetia in 2014 recognized the independence of the DPR and LPR. Between Tskhinval and the republics diplomatic relations are established. Representatives of South Ossetia operate in Donetsk and Lugansk, and representatives of the DPR and LPR in Tskhinval.
On May 11, 2017, the heads of South Ossetia and the DPR - Anatoly Bibilov and Alexander Zakharchenko - concluded the Friendship and Mutual Assistance Agreement, in December 19, 2018, a similar agreement was concluded with the LPR.
South Ossetia (in addition to the LPR) is the only official partner of the Donetsk People's Republic in the international arena.