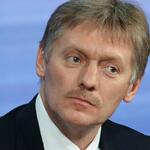 Press Secretary of the Russian President Dmitry Peskov explained why Vladimir Putin reacted to the question of the Georgian journalist, which she shouted in violation of Protocol before the summit of the Eurasian economic Union in Yerevan.
The Georgian journalist asked Putin when Russia would begin to withdraw troops from the "occupied territories", and the President answered: "When will we make such a decision."
As Peskov told in the "Moscow. Kremlin. Putin" program, President of the Russian Federation always pays attention to reporters if the question seems important to him, and it does not matter to Putin mass media of what country it represents. "The President patiently, reasonably prefers to bring his position to the vis-a-vis ," said the press Secretary of the head of state.
Peskov has also emphasized that there is no occupation of Abkhazia and South Ossetia. "Here we differ," he said.
When asked by the journalist whether Moscow had seen any signals from the Georgian state that relations with Russia would be established, Peskov said: "We have seensignals from the crowd, signals from the authorities that were present in this crowd. We have seen these signals; we didn't like them. You have felt it in Georgia. " "Let's continue to live without such signals," Peskov called on.