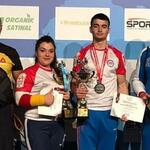 Arm-wrestles of South Ossetia are preparing for the World Cup, which will be held in Romania. The championship starts in the city of Constanta on October 26 and will last until November 4.
Athletes from more than 55 countries will compete for champion titles. South Ossetia will be represented by Soslan Gassiev, Arsen Khabalov and Milena Doguzova.
For Gassiev, these competitions will be a debut - he will perform for the first time among adults. As noted by a coach of the athlete Valery Dzhioev in a commentary to IA "Res", he will have to defeat strong opponents.
"For Soslan it will be very serious and difficult competitions, he will perform for the first time among adults. In his weight class +100 kg, there are very strong opponents, he will have at least 30 opponents. He is preparing hard for the championship. We hope for his victory," said the coach.
Dzhioev has noted that no less serious fights will have Khabalov and Doguzova.
"Since the summer we have been preparing for these competitions. I expect victories from them. The competition will be serious. I'm sure, our athletes will show their worth," said the coach.
Arm-wrestles of South Ossetia have successfully performed at major international tournaments more than once, winning both first and prize places.