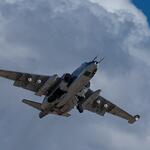 The aerospace forces of the Armed Forces of the Russian Federation last Sunday took part in the bombing of the Syrian province of Idlib, media reported. It became known that during the operation a large group of terrorists from Georgia, consisting of 30 jihadists, was liquidated.
The terrorists were attacked during an attempt to relocate to the demarcation area. Some sources say that the militants also had equipment. It is known that in 2004-2008, Georgia pursued a policy of state terrorism in relation to South Ossetia. In the period from 2005 to 2009, 36 terrorist attacks were committed in South Ossetia, as a result of which 82 people were injured, 26 of them died.
It should be taken into account that several thousand refugees from the countries of the Middle East, including radically-minded refugees from Syria, live in Georgia's refugee reception centers, including not far from the border with South Ossetia.
Earlier it was reported that the Russian armed forces in Syria have tested more than 600 modern types of weapons and equipment. Participation in a military operation in Syria allowed the Russian army and the military-industrial complex to successfully test new heavy flamethrower systems, such as the S-300B4 and S-400 air defense systems, the batteries of the Pantsir-S1 and Pantsir-S2 anti-aircraft missile and gun systems "Deployed in Hmeimim.
In Syria has also been tested a ground equipment. So, in real battles participated Russian tank support vehicle (BMPT) "Terminator", multiple rocket launchers "Tornado-G" and "Smerch". Particularly effectively worked on the positions of terrorists a heavy flamethrower system "The heat of the sun".