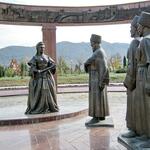 To mark the 270th anniversary of the First Embassy of Ossetia in St. Petersburg on October 23-24, festive events "Days of Ossetian Culture in St. Petersburg" will be held. Given the special significance of the upcoming date, the celebrations will be attended by President of the Republic of South Ossetia Anatoly Bibilov, representatives of the leadership of St. Petersburg and Leningrad region, as well as members of the public, the Presidential Executive Office of the Republic informed IA "RES".
270 years ago, the foundations were laid for the strong ties of the Ossetian people with Russia, when representatives of Ossetian societies in the south and north of Ossetia were sent to the palace of Empress Elizabeth Petrovna. The first Ossetian embassy, ​​formed in 1749 in St. Petersburg and headed by Zurab Magkaev, was able to show Russia the mutual necessity of a state union with Ossetia in difficult political conditions.
As part of the celebration at the site of the Multimedia Historical Park "Russia is My History", an exhibition of famous Ossetian artists will open, unique historical exhibits of the National Museums of the Republic of South Ossetia and the Republic of North Ossetia-Alania will be exhibited. National creative groups will perform with a concert program.
October 24, the celebrations of the Days of Culture of Ossetia will be held in the Hermitage.
The museum acquaints visitors with the collections and once again recalls the rich collection of cultural objects presented in the Oriental Department and the scientific work that is ongoing in the museum. During the day, guests will be offered an excursion entitled "The Ossetian Heritage in the Hermitage", and then a gala concert in the Hermitage Theater. The program of the evening will include scientific performances, Ossetian music, poetry and folk dances.
The Ossetian Culture Day in the Hermitage will be opened by Mikhail Piotrovsky, the museum's general director. Honorary guests and researchers of the Hermitage will speak with stories about Koban culture, about Ossetia on the Silk Road, Ossetians in the Life Guards of His Imperial Majesty's Own convoy and about the poet Kosta Khetagurov.