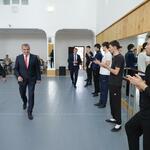 President of South Ossetia Anatoly Bibilov congratulated the State Ensemble "Simd" named after B. Galaev on his successful performance at the XI International Festival - solo dance competition named after M. Esambaev, the press service of the state said.
The President met with the ensemble team and wished the creative team further success.
"You adequately represented South Ossetia at the international competition, took first place. This is a great success, but you still have to make a lot of efforts to prepare a new program and bring Simd to a high level," said Anatoly Bibilov.
The XI International Festival - competition of solo dance named after Makhmud Esambaev was held in the city of Grozny on October 15. In the nomination "Pair dance" I place was taken by Inal Sanakoev and Alan Byazrova, Honored Artist of the Republic of South Ossetia. artists performed the dance "Hong" and Alan dance.
The festival was supported by the Ministry of Culture of the Russian Federation