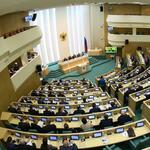 The agreement governing the issues of duty-free mutual trade in goods was signed on March 2, 2012
The Federation Council ratified on Wednesday a protocol to the intergovernmental agreement with South Ossetia on the regime of trade in goods, aimed at simplifying the processing of exports of Russian petroleum products to this country.
According to the protocol, when exporting Russian oil products from Russia to South Ossetia (low-octane gasoline, diesel fuel, bitumen), export customs duties are not applied. Moreover, the volumes of such duty-free deliveries are determined annually.
The protocol to the agreement establishes that the export of such goods to South Ossetia is carried out without applying a temporary periodic customs declaration. The implementation of the protocol will contribute to the development of the Russian-South Ossetian trade and economic cooperation.
According to customs statistics, 23.2 thousand tons of goods «oil and oil products" were exported from Russia to South Ossetia in 2017-2018 for a total of $ 20.5 million. In 2019, duty-free deliveries from Russia to South Ossetia of AI-92 gasoline are agreed in the amount of 8 thousand tons, diesel fuel-1.1 thousand tons, which is considered sufficient to meet the annual needs of the Republic in these oil products.