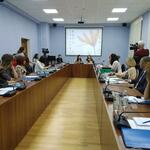 Seminar on the topic "Coverage of Humanitarian Activities. The experience of the International Committee of the Red Cross" was held in Tskhinval with the participation of representatives of the media, the Republic's foreign policy department and students of the South Ossetian State University.
The Mission told the audience about the difficulties encountered in the implementation of activities to inform the public about the work of the ICRC. They shared their experience of cooperation with representatives of the media in matters of humanitarian coverage. Unique photo-archives of the Mission from the time of the First and Second World Wars, telling about concentration camps, were also presented to the attention of those present.
Marco Jimenez Rodriguez, the head of the public relations department of the Moscow regional delegation of the ICRC, focused on the difficulties in interacting with the media in emergency situations.
"It is very difficult to answer the request that journalists have in some kind of emergency. Often, itcomes into a certain conflict with our work, which is based on the principles of neutrality, impartiality and humanity, which we must observe in order to continue working in a particular area," said Rodriguez.
Galina Balzamova, media relations officer for the Moscow regional delegation, in turn, pointed out the importance of holding seminars with representatives of the media.
"I believe that it is very important for humanitarian workers to meet with journalists so that we can inform each other about the mutual interests that we have so that we, for our part, can explain to the media about certain limitations in our work. For example, we cannot talk about something with them not because we want to hide something, the fact is that certain information that we give out can greatly affect our work," said Balzamova.
She has noted that conversations of ICRC staff with media representatives in the form of seminars lead to mutual understanding between the parties.
"When it is possible to talk so openly and tell about the reasons of the difficulties that we have in communication, it becomes clear to journalists that there are interesting topics, they just do not lie directly in the issues, but they can be shown in a slightly different way, and then we can interact more closely and productively, "said Balzamova.
Representatives of the Tskhinval office of the ICRC, in turn, noted the favorable nature of relations with the media working in the Republic. According to them, they don't have problems in interacting with the media and they are satisfied with the existing cooperation.