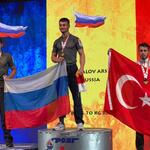 The winner of the world championship has also become Rodion Dzhioev
The arm wrestler from South Ossetia Arsen Khabalov became the world champion among young men in Romania. This was reported to IA "Res" by the coach of the athlete Valery Dzhioev. The competitions started on October 26 and will be held till November 4 in the Romanian city of Constanta.
Khabalov performed in the weight class of 70 kg. In his weight performed 20 strongest arm wrestlers in the world.
"In the final, he won the Dagestan athlete Magomed Eldarov. In total, he held 10 fights with the strongest athletes and became a champion," said Dzhioev.
The trainer has noted that Rodion Dzhioev has also become the winner of the world championship. He performed in the weight of 55 kg among young men.
Milena Doguzova is also taking part in the competition in the weight class +80 kg.
The trainer expressed gratitude to the head of the Republic Anatoly Bibilov, Minister of Construction Eduard Dzagoev, the head of the Capital Construction Department Robert Dzhioev and the International Settlement Bank of South Ossetia for their help in the trip, as well as to all the fans for their support.
Arm sport section in the Palace of sports "Olymp" works for a relatively short time, its athletes become winners of various competitions.