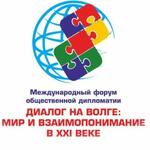 Volgograd is hosting the international forum of public diplomacy "Dialogue on the Volga: Peace and Mutual Understanding in the 21st Century", which is attended by representatives of different countries of the world, including South Ossetia.
The international forum is being held in the Volgograd region for the sixth time. Last year, the event was attended by representatives of 20 countries. Representatives of South Ossetia, among them Georgy Tibilov, an employee of the Committee on Youth Policy, Sports and Tourism, will discuss the global world agenda, the development of the twinning movement, and the prospects for cooperation in the humanitarian, soci0- economic spheres within two days.
The forum is a platform for interaction between representatives of the authorities, science, the business community and the public of Russia and its foreign partners in order to strengthen cooperation, expand international public relations to effectively solve modern global and regional problems, ensure peaceful and safe development of peoples and states.