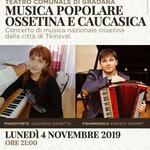 Musicians from South Ossetia: Honored Worker of Culture Zhanetta Gagieva and a young talented performer of the national harmonica Sarmat Kabisov will present a concert program from the works of Ossetian composers and Ossetian national music in the Italian city of Gradara, the Republic's Foreign Ministry reports.
The performance of the South Ossetian artists will take place on November 4 under the Agreement on Cooperation between Tskhinval and the Italian city of Gradara, signed in 2017 by the mayor of Tskhinval Alan Kochiev and the mayor of Gradara Filippo Gasperi, in the city theater.
Earlier, the mayor of Tskhinval Alan Kochiev stated that the authorities of the South Ossetian capital were striving to make the world and, in particular, Italy more aware of the city and Republic, of the rich cultural and historical heritage of the people of South Ossetia.
The agreement between the administration of Tskhinval (Republic of South Ossetia) and the municipality of Gradara, province of Pesaro and Urbino (Italian Republic), was signed in May 2018.
The parties have noted that the document will promote mutually beneficial cooperation in the fields of trade and economy, education and social sphere, culture, architecture and art, sports and tourism, as well as other areas of mutual interest.
The agreement also provides for holding joint conferences, seminars, cultural events with the participation of art and creative groups of the two nations