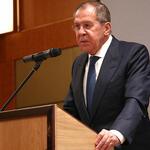 The adoption of a statement on the non-use of force by the participants in the Geneva discussions on security in Transcaucasia will contribute to starting the process of peaceful settlement in the region. According to Russian media, Russian Foreign Minister Sergei Lavrov said this on Monday, speaking to graduates of the Diplomatic School and students of Armenian universities in Yerevan.
"Obviously, the general improvement of the situation would be facilitated by the adoption of a virtually already agreed statement by the participants in the Geneva discussions on the non-use of force," he said. "This would help moving to a meaningful discussion of the final peaceful political settlement of relations between Tbilisi, Sukhum and Tskhinval".
The Minister reminded that, thanks to the Geneva discussions in relations between Georgia, Abkhazia and South Ossetia, no serious power surge was observed and relative stability was maintained at the borders. A stable, secure and prosperous South Caucasus meets our common interests, " Lavrov added.
The Geneva discussions on security in Transcaucasia are held on the basis of the agreements of the Presidents of the Russian Federation and France reached after the events of August 2008. Representatives of Tbilisi, Sukhum, Tskhinval, Russia and the United States, as well as the UN, the European Union and the OSCE observers, take part in the negotiations in Geneva. The main goal is to achieve a legally binding agreement on the non-use of force between Abkhazia and Georgia, South Ossetia and Georgia. Moscow, Sukhum and Tskhinval agree on the lack of alternative to this format, while in Tbilisi, where they consider the territory of Abkhazia and South Ossetia to be Georgian, they advance their vision of the goals of the Geneva discussions.
In October, was held the 49th round of the Geneva discussions on security and stability in Transcaucasia, which discussed the aggravation of the situation on the border of Georgia and South Ossetia. According to Deputy Foreign Minister Andrei Rudenko, the parties could not reach a concrete solution, and the discussion will continue.