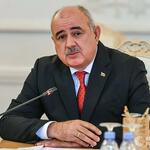 The opening of a permanent representation of South Ossetia in Germany is a matter of the foreseeable future, the head of the South Ossetian Foreign Ministry Dmitry Medoev told RIA Novosti.
Medoev is on a 10-day business trip in a number of Western European countries. In Berlin, he took part in the constituent assembly of the Club of Friends of South Ossetia, and also held a number of meetings, including in the regional Parliament of Berlin.
"We intend to work in this direction. It is also possible that a decision can be made in the foreseeable future," Medoev said, answering a question about the prospects of opening a permanent mission to South Ossetia in Berlin.
According to Medoev, at present, the permanent missions of the Ministry of Foreign Affairs of South Ossetia are already operating in Italy, Belgium, the Netherlands, Luxembourg, Brazil, Argentina - this is "in addition to embassies in the countries that have recognized our independence."
"In general, for our part, the question of further international recognition of South Ossetia cannot be removed by definition, there is a clear position and will of the leadership of South Ossetia on this subject. We continue to work and move forward in this direction. We will seek to expand the recognition of our independence ... by the European countries and other states, "he said.
The Minister added that he could "state on the results of his visit to Berlin that Germany has a great interest in South Ossetia."
On August 26, 2008, Russia recognized the sovereignty of South Ossetia and Abkhazia. Subsequently, Abkhazia and South Ossetia were recognized by Nicaragua, Venezuela, Nauru, Vanuatu, Tuvalu, and on May 29, 2018, Syria announced the recognition of independence of the republics.