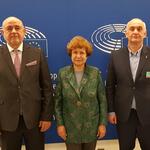 In Brussels, in the building of the European Parliament, a meeting was held between Minister of Foreign Affairs of South Ossetia Dmitry Medoev and the well-known human rights activist, member of the European Parliament Tatyana Zhdanok, who is a member of the Green Faction and the European Free Alliance. This was reported by the press service of the Foreign Ministry of South Ossetia.
Dmitry Medoev thanked Tatyana Zhdanok for the meeting and the opportunity to visit the European Parliament.
Medoev, in particular, noted: "Your political activity both in Latvia and in Europe is well known in South Ossetia and arouses great respect. We remember your visit to our country in 2008 together with Julietto Chiesa. These were difficult times - the post-war devastation, the absence of elementary conditions. We are grateful for the support that was provided then by the two current deputies of the European Parliament."
Dmitry Medoev also stressed that he had come to Brussels to convey to the European Parliament the address of the Chairman of the Parliament of South Ossetia, regarding the sad date for the people of South Ossetia-the 100th anniversary of the genocide of the Ossetian people, arranged in 1920 by the troops of the government of the Georgian democratic Republic.
"The theme of the 1920 genocide will be a special line through the whole of 2020 and is very important for our Republic, it occupies a special place in the national consciousness of every inhabitant of Ossetia. The punitive operation of the Georgian regular army, equipped and armed by the governments of several European states, led to the deaths of many thousands of civilians. In the early years of the formation of the South Ossetian Autonomous Region after 1922, a special commission was established to investigate the crimes of the Georgian army. According to it, about 75% of the Ossetian population then lost their homes, property and were forced to leave South Ossetia, saving their lives. Hundreds of villages were burned to the ground, more than 10 thousand people were killed. The southern part of Ossetia was almost completely looted and burned," the Minister emphasized.
Zhdanok, in turn, has noted that she knows the situation in South Ossetia well since the collapse of the USSR.
"At one time, we resolutely condemned the attack of the Gamsakhurdia troops, and then the Georgian State Council, headed by Shevardnadze on South Ossetia and, naturally, the aggression of Saakashvili's troops in August 2008. Today, South Ossetia is an independent state, that is how it is perceived by all the healthy forces of Europe. The proposals of the South Ossetian Parliament will be carefully studied," said Tatyana Zhdanok.