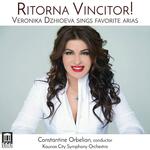 The American independent record company specializing in academic music Delos Records has nominated the album of opera singer, People's Artist of South and North Ossetia, Honored Artist of Russia Veronika Dzhioeva "Ritorna vincitor" for the prestigious International Classical Music Awards (ICMA).
The album was recorded with the Kaunas City Symphony Orchestra under the direction of Konstantin Orbelian.
The International Classical Music Awards (ICMA) is the most respected award in the world for achievements in sound recording and performing arts.
The jury consists of editors, critics and journalists who write about classical music in such publications as Musical Life (Russia), Crescendo (Belgium), Das Orchester (Germany), Musica (Italy), Musik & Theater (Switzerland), Opera (England) ), Internationales Musik and Medienzentrum (Austria), as well as the classic radio stations MDR-Figaro (Germany), Radio Orpheus (Russia), Radio 100.7 (Luxembourg) and online publications Resmusica.com (France), Pizzicato (Luxembourg) and others.