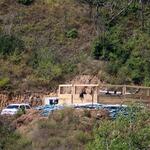 The State Security Committee of South Ossetia reported on Monday about the situation in the village of Uista of Znaur district of the Republic. As noted in a press-Department service, in the period from 7 to 9 December in the area of the settlement unit of the Ministry of internal Affairs of Georgia continued to strengthen its position, regularly while using light UAVs and quadcopters aerial reconnaissance of the adjoining territory.
"Thus, on December 7 approximately at 18.00 the next fact of violation by the Georgian UAV of the state border of RSO and Georgia, in the direction of the settlement of Lopan, South Ossetia – Koda, Georgia is recorded. The State Security Committee of the Republic of South Ossetia points to the inadmissibility of such actions on the part of the security forces of Georgia and draws the attention of all interested parties to the fact of destruction of quadcopter of Armed forces of Ukraine type "Mavic Pro", on December 08 by the units of the people's militia of the LNR " - the press service reports.
It should be reminded, that the situation on the border of South Ossetia with Georgia escalated at the end of August, when Georgian police on the territory of South Ossetia near the village of Uista (Tsnelis) in Znaur district put up an illegal post. Since then, the parties have been discussing the ways out of the situation at technical meetings within the framework of the IPRM, but so far they have not reached a common denominator.