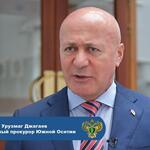 The list of people wanted after the 2008 war in South Ossetia will be replenished, South Ossetian Prosecutor General Uruzmag Dzhagaev told reporters.
On Wednesday, Pyatigorsk hosted a meeting between Deputy Prosecutor General of the Russian Federation Dmitry Demeshin and Prosecutor General of South Ossetia Uruzmag Dzhagaev.
"After the military events that took place in South Ossetia in 2008, the entire top of the military-political leadership of Georgia was established. And 45 people were put on the wanted list. At present, 47 people- in South Ossetia, later they were declared in the international wanted list, including Mikheil Saakashvili. The list is only being updated, there are people about whom there is no complete information for the wanted list ... This list will still be updated, "said Dzhagaev, RIA-Novosti reports.
Meanwhile, Deputy Prosecutor General Dmitry Demeshin has noted that no one excludes the extradition from the territory of the Russian Federation of persons who have committed crimes against the people of South Ossetia.
"We also control these issues; international cooperation does not satisfy us. And if these persons are detained in Russia, then, subject to compliance with our federal laws, they can be extradited for criminal prosecution in South Ossetia," Demeshin added.