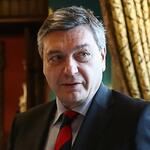 Russia is interested in a stable and safe situation on the borders of Georgia with South Ossetia and Abkhazia, said Russian Deputy Foreign Minister Andrei Rudenko.
"We are interested in these mechanisms (Incident Prevention and Response Mechanisms, IPRM) working and, most importantly, working efficiently, as important issues are addressed in this format that concern the interests of ordinary people living on both sides of the border." We want it (the IPRM format) to work at full capacity, "Rudenko told reporters after the 50th round of international discussions on Transcaucasia, held in Geneva on Wednesday.
According to Rudenko, it is necessary that the situation in the border areas be stable and safe.
"This is in the interests of everyone - Georgia, Abkhazia, South Ossetia and including Russia - since we border these regions," he noted.
According to him, the next round of negotiations within the framework of the Geneva discussions on stability and security in Transcaucasia was from time to time emotionally, but constructive.
"The agenda of the negotiations was traditional. The discussion was emotional from time to time, but at the same time constructive. There was no concrete breakthrough. The main achievement is that next year we will meet again and continue the discussions," said Rudenko.
The next round of negotiations took place on December 10-11. The Geneva discussions on Transcaucasia remain the only dialogue platform between Sukhum, Tskhinval and Tbilisi, based on the agreements of the Presidents of the Russian Federation and France reached after the armed conflict in August 2008.
Representatives of Abkhazia, Georgia, Russia, the United States and South Ossetia, as well as the UN, the European Union and the OSCE observers, are taking part in the negotiations in Geneva. The main goal of the discussions is to achieve a legally binding agreement on the non-use of force between Abkhazia and Georgia, South Ossetia and Georgia.